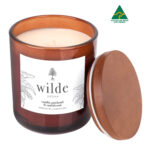 Vanilla, patchouli and sandalwood candle
Vanilla, patchouli and sandalwood candle
$27.95 – $44.95
Indulge in the earthy embrace of our locally handcrafted Vanilla, Patchouli, and Sandalwood Candle in Melbourne. Ethical and beautifully balanced.
Our Vanilla, Patchouli, and Sandalwood Candle is an earthy, woody, and warming scent. Handcrafted with love in Melbourne, it reflects our commitment to ethical and local craftsmanship, creating a fragrant escape that is as pure as it is indulgent. This candle welcomes you with the initial citrus notes of bergamot and lime, leading to the earthy richness of sandalwood, all while maintaining hints of soothing vanilla. It's a beautifully balanced aroma that is sure to win the hearts of all who experience it.
An Earthy Escape
Handmade in Melbourne, each candle embodies the essence of local craftsmanship and ethical values. We prioritise quality and authenticity, using soy wax for a clean and safe burn and avoiding harsh chemicals and artificial scents.
The Aroma
The fragrance of our Vanilla, Patchouli, and Sandalwood Candle blends earthy and woody notes. The initial citrus burst of bergamot and lime awakens your senses and leads to the grounding and warming qualities of sandalwood. Hints of soothing vanilla add a layer of complexity that creates an aroma as beautifully balanced as it is indulgent.
Crafted with Care
Our candles are more than just sources of fragrance; they are vessels of well-being. The Vanilla, Patchouli, and Sandalwood Candle is hand-poured with meticulous attention to detail, ensuring a pure and authentic experience. As you light this candle, it takes you on an aromatic journey that's as unique as it is indulgent.
A Winner for All Occasions
The beautifully balanced aroma of this candle makes it a winner for all occasions. Light it when you want to create an ambience that reflects the harmony of earthy and woody scents, celebrate moments of tranquillity, or simply unwind in the comforting embrace of the Vanilla, Patchouli, and Sandalwood Candle.
How to Enjoy Your Vanilla, Patchouli and Sandalwood Candle
The very first burn creates the 'memory burn'. Allow the candle to melt to the very edge of the vessel. This prevents future tunneling
Burn on a stable, heat-resistant surface away from flammable objects
Never leave a burning candle unattended
Trim the wick to 0.6cm before every burn to prevent excessive smoking & centre the wick after burning to ensure an even burn next time
Avoid burning for more than 4 hours at a time, this helps extend the life of your candle and maintain it's fragrance
Once your candle is finished, consider reusing the container for other purposes or recycle via your household bin. Remove rubber ring on lid before recycling wooden lid.
Keep out of reach of pets and children
Other options:
We provide this scent in our Japanese honeysuckle reed diffuser and our room spray
Additional Info
Pure soy wax candles fragranced with natural oils, housed in an amber glass jar with a dark wooden oak lid.  They are perfect to take travelling or camping and simply look stylish. When lit you will see the slight transparency of the glass and the beautiful ambient glow. A perfect addition to a nighttime ritual.  
Warning: Do not burn below 1 cm of wax remaining in the bottom of the jar as it will create a concentration of heat on the base of the jar. Soy Wax is soft so when your candle is finished, scoop out the remaining wax with a spoon and rinse with warm soapy water. Your amber glass and lid can now be re-purposed. Examples are loose leaf tea, pot plants, vase, coin jar, bathroom storage, options are limited only to your imagination.
Additional information
| | |
| --- | --- |
| Weight | N/A |
| Dimensions | N/A |
| Size | Large, Small |